ABOUT ME
Hello, my name is Hannah and I am the owner of Fable Faces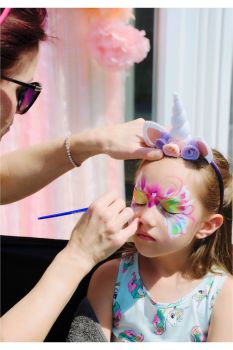 I have always loved experimenting with theatrical products, makeup, drawing and painting since I was small. Time has only increased my desperate need to have art in my life, it flows through my veins and defines me! An artistic journey has no beginning or end, its a continous learning curve! Colour really does bring everything to life!
I am professionally qualified and am very passionate about what I do. It is having an eye for shape and colour that has helped my success. I am constantly aspiring to expand the diversity of my skills and I seek inspiration everywhere!! I feel very priveledged to share my art with you. It is also so heartwarming to make people happy and leave lasting memories!
I am also proudly a member of FACE - the International Face Painting Association which means I have completed trials based on my ability and speed. Member number 523.

"Members have to pass a certification test in order to join and this ensures that all FACE Members have reached a set standard of speed and competence. Anyone booking a FACE member can be confident that the painter they choose will meet our high standards." www.facepaintingassociation.com